network administration IT consulting network administration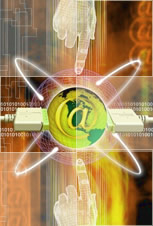 Our network administration service is your first level of support and often the only level of support you will need.  Many businesses find themselves calling expensive network engineers when what they need is a network administrator with high-tech experience.  In fact, most engineers will look to your network admin to find out what your end users need. We provide that missing link.
We offer on-site1 and remote network administration — or more accurately information systems management — for all your information resources: computer network, security and phone systems. We specialize in:
Novell Netware
Groupwise
WordPerfect, including macros and other advanced features
Microsoft networks
Microsoft Office Suites — Word, Powerpoint, Access and Excel
Juris and TimeForce
Adobe Acrobat Professional (including forms creation and OCR functions)
Omni Page Pro
Isis Search Tool
Going paperless? We set up and maintain scanning for document management. We work with your copy service, mail clerks and office staff to implement effective workflow for scanning documents, running OCR and indexing keywords so that each document becomes a part of robust search features in your network.
We provide help-desk support, add and manage user accounts, maintain file systems and secure access, verify backups, and troubleshoot computer and printer problems; we liaise with network engineers, hardware vendors and service providers for all major repairs, upgrades and outages; manage all shared online research accounts;  patch and maintain network and application software; we even train staff on software and Internet use.
Because we are Florida based, we are also uniquely experienced with hurricane preparedness and disaster recovery. We implemented and managed emergency satellite offices and communication systems following Hurricane Wilma in South Florida.
Contact us today for your IT management needs.
Broward County, Florida locations only. Remote support worldwide.